Les 24h du Mur
35 €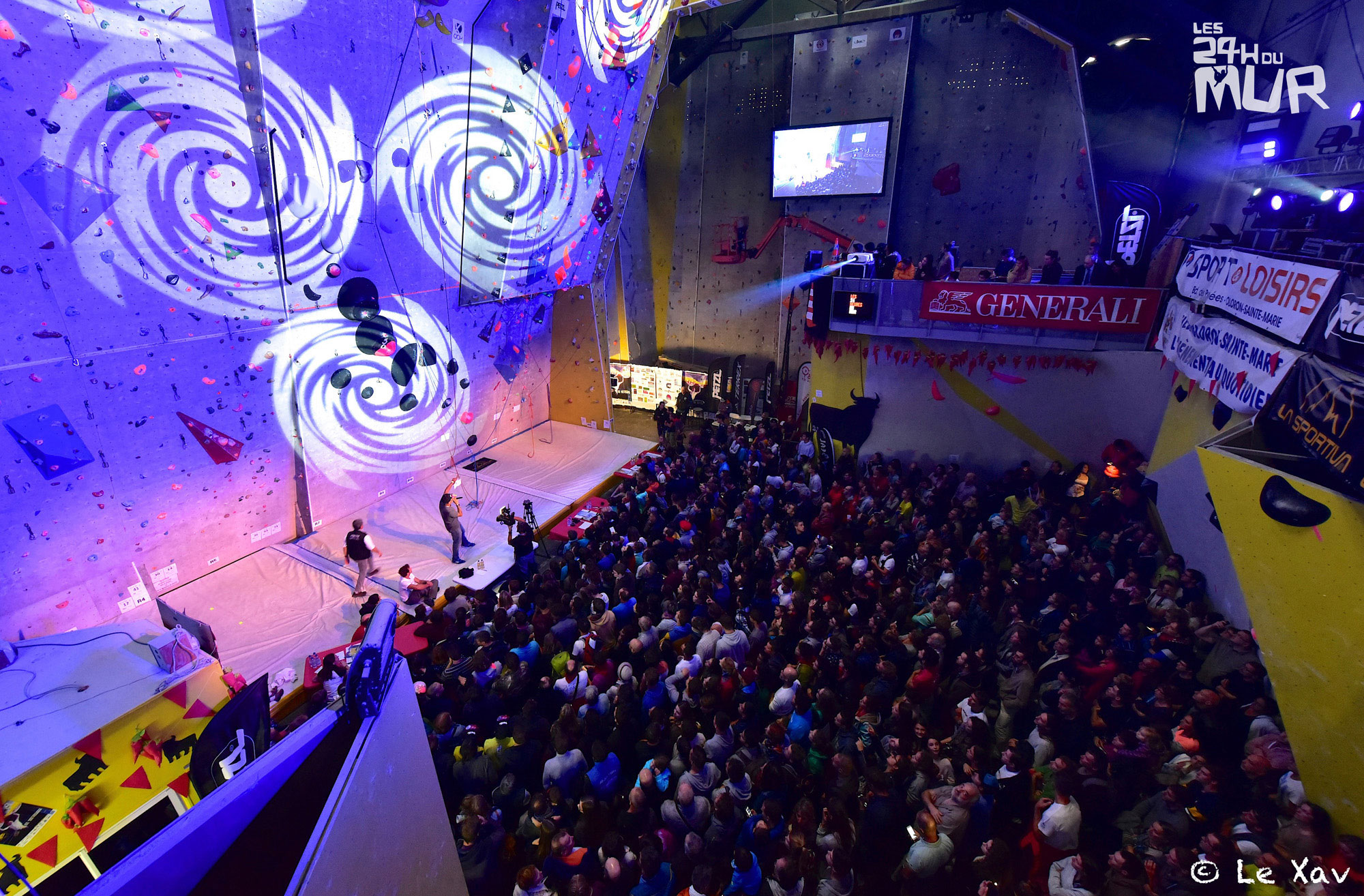 Les 24h du Mur, a unique concept worldwide
Founded in 2006 in the South-West of France.
24H of rock climbing NON-STOP.
Participation of some of the best pro rock climbers of the world.
An absolute MUST for all climbers!
Enjoy the festive Sound and Light show held during the finals (Live Streaming and social networks).
Format & organisation of the competition
PROFESSIONAL AND AMATEUR CLIMBERS SIDE BY SIDE.
2 men and women categories (Experts and Amateurs).
+ than 80 routes (with points awarded based on their level of difficulty).
INTERNATIONAL  MASTER COMPETITION FINALS ON SUNDAY.
The 8 top climbers from each category will qualify for the finals.
A GOURMET MEAL (Saturday evening).
CONCERTS AND ENTERTAINMENT THROUGHOUT THE WEEKEND.
A few figures…
250 participants.
8 000 spectators.
21 countries represented.
250 active volunteers.
+ than 12 000 stream views, live on fb
+ than 15 000 views on YouTube
24H of non-stop rock climbing.
21 metres high.
85 routes.
3 000 holds used.
2 000 m² of climbable surface.
3 large screens.
A competition loved by all climbers
Whether it is the sport's professionals talking or the enthusiasts, everyone agrees when it comes to the 24H Du Mur:
A competition format never before seen.
Enabling the world's best to climb side-by side with enthusiasts.
The high quality of the route setting (by Romain CABESSUT, an international chief route setter).
An amazing rock climbing party with an atmosphere true to the South-West of France.
Various activities, concerts and fun throughout the whole weekend.
And behind the event…
…. A dedicated team of volunteers that have been organizing the competition for 12 years. Their expertise is today recognized not only by the climbers and the spectators but also by the national and international rock climbing federations. More than 250 people will be lending their time over the weekend to ensure that all involved will be able to enjoy this year's edition.
… Le Mur is not just about rock climbing, it's also about the entertainment. Many different activities have been organised for everyone to enjoy: Initiation to rock climbing for children, free concerts (rock, jazz), a sponsor and exhibitor's area, local games, "Mini ninja warrior" and hip hop… Les 24h du Mur is a place where spectators and participants can share unforgettable moments and exchange on rock climbing. That is what this event "made in the South West" is about… sport, atmosphere, music and entertainment. What are you waiting for to join us?